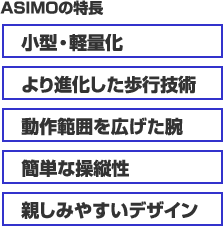 Weight
43kg
Walking speed
0〜1.6km/h
Walking period
Period is variable and step variable
Grip
0.5kg/hand (5 finger hand)
Actuator
Servo-motor + harmonic reduction gear + drive unit
Control section
Walking/operational control unit and wireless communication unit
Sensors
Foot
6 axial force sensors
Body section
Gyro accelerating sensor
Power source section
38.4V/10AH(Ni-MH)
Function part
Work station and portable controller



ASIMO supposing that in the near future, it is really active in the life space of the human, did research development.
Size and the weight which free and it is easy to move work in the life space of the human, simple operativity was actualized. In addition, it made the design which you can be moved by more familiarly.